Find a great Korean spa in NYC
Treat yourself to a full day of relaxing at a wonderland like Spa Castle, one of the best Korean spas NYC has to offer.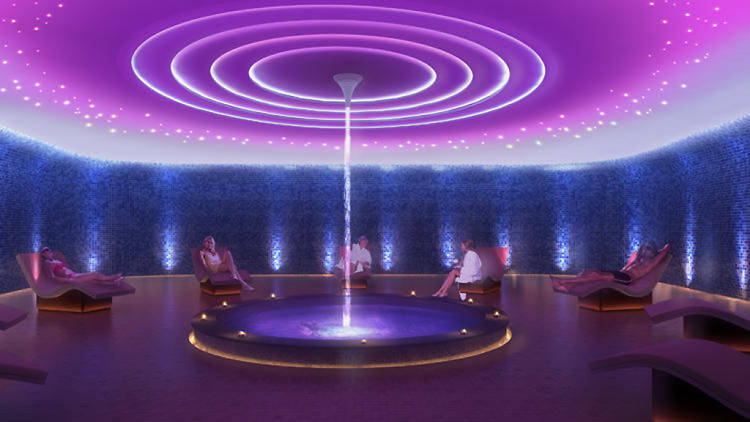 Are you in need of a spa day? (Stupid question.) If a quick massage or facial isn't enough for you, try a Korean spa. They offer a range of experiences from affordable spa treatments (like body scrubs) to elaborate saunas or water parks where you can spend the whole day eating and lounging by the pool. New York is home to some of the highest-tech and most stimulating Korean spas in the country, not to mention access to some of the best Korean beauty products, so we rounded up the top spots that are totally worth your time and your hard-earned dollars.
The best Korean spas in NYC
1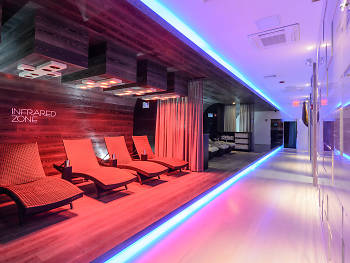 If you've visited Spa Castle in Queens, then you know why we're pumped about this Manhattan location, which opened in late 2014. Occupying floors seven, eight and nine in a midtown building, Spa Castle Premier 57 is the ultimate relaxation mecca. The shoe-free facility (you'll still have to wear those odd T-shirt/shorts uniforms) features "Sauna Valley," an area boasting six types of rooms (including cold saunas, one paved with gold—seriously—and an infrared lounge), a swim-up full service bar and a year-round roof deck. Day passes (which include access to tubs and other communal areas) are $65. Food, drinks and treatments cost extra. No one under the age of 16 is admitted.
2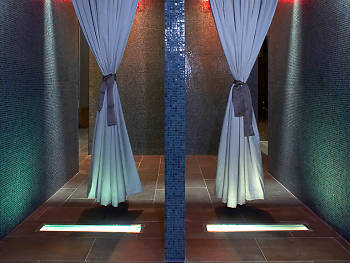 Aura Wellness Spa
Super high-tech and sparkling-clean, this three-level spa, which opened in 2007, seems like an unlikely fit for 33rd Street. Buried in Koreatown, the 12,000-square-foot traditional Asian-style spa houses four igloolike saunas (the Hwangto Dry Grotto, Crystal & Jade Dry Grotto, Crystal & Jade Steam Grotto and Stone Ice Grotto), which contain minerals and salts for bettering your skin. After enjoying the saunas, your technician will shepherd you to one of the many treatment rooms—dedicated to everything from massages (start at $75) to Asian body scrubs (start at $120) and microdermabrasion facials (start at $120). Bonus: The spa is open seven days a week, from 10am to 2am. Sounds like an excuse for a ladies night!
3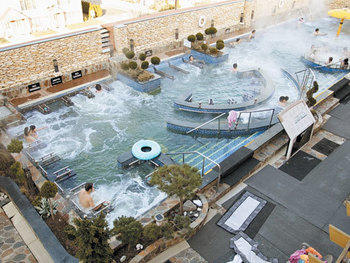 This expansive wonderland in College Point, Queens, has taken on near legendary status in NYC, partly for its quirky layout and partly because it attracts a diverse following, with frat boys and families among the patrons. On its first floor are separate nude bathing and showering areas for men and women. To meander through the rest of the complex, you'll don special "uniforms" (pink tees and orange shorts for ladies, gray shirts and blue bottoms for gents). On the second and third floors, you'll find a coed, year-round outdoor water park (bathing suits compulsory) with all manner of heated jets, whirlpools and showers. Inside, there are seven themed saunas; one might have healing minerals in it, while another may feature colored lighting (you select the therapeutic illumination yourself).
4
Juvenex Spa
An unassuming Koreatown building is home to this huge, soundproof, round-the-clock oasis. Shy gals take note: Nudity is encouraged in the communal areas, full-body scrubs are executed in shared, barely screened-off spaces, and the spa goes unisex after 7pm. The facilities are impressive, though; lolling in one of the igloo-like saunas, made from 20 tons of jade stones and infused with Chinese herbs, is said to increase metabolism, improve circulation and detox the body. Standard spa treatments like facials; massages and body wraps are offered, too.